Announcements
FIU students offer care to those in need
Lying in bed, her voice hushed to a whisper, Altagracia Gautier could manage only a few words at a time. "Sometimes I forget to eat," the 74-year-old woman, who has Parkinson's dise...
Read more >
Young Cuban rafter who played Star-Spangled Banner on boat is now a mom and teacher in Hialeah
Lizbet Martínez, the Cuban rafter girl who warmed the hearts of U.S. Coast Guard officers and many others across the nation 20 years ago with her rendition of The Star-Spangled Banner, still has ...
Read more >
The ABCs of higher education are changing; will Latino students keep up?
There's little argument that the education future is built around STEM (Science, Technology, Engineering, Math); however, a recent study revealed 38 percent of students who start with a STEM major d...
Read more >
Lastest Tweets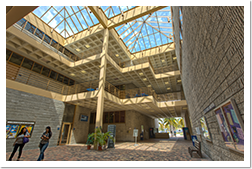 FIU is interested in the 64 acres that Miami-Dade County adjacent to Tamiami Park on the corner of Coral Way and 107th Ave. Our proposed expansion will enhance our ability to create new jobs for the South Florida economy and produce greater student talent in engineering, the sciences, and entrepreneurshhip – areas that are state priorities and keys to economic development. Miami-Dade voters would decide if FIU is allowed to expand in the Nov. 4th general election. Get involved.